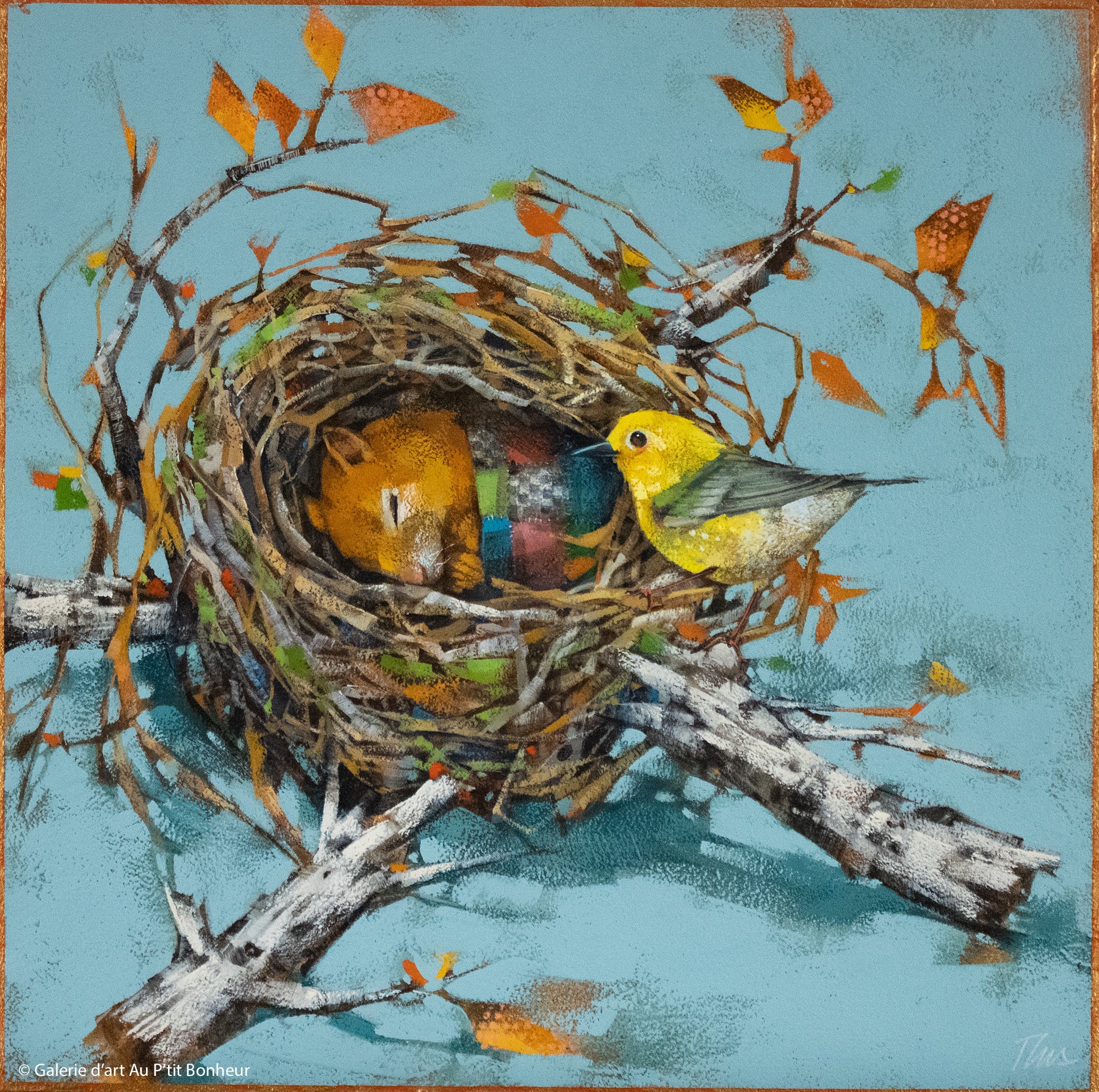 Would you like to receive news from Angie Rees by email?
Angie Rees was born in 1965 and lives in Calgary, Alberta. A quick-witted painter, she mainly paints animals, in a style that is at once whimsical, playful and eccentric. From the title to the detail, each creation brings smiles, delights the eye and tickles the imagination. His inventive works feature rich textures and a vibrant palette.


---
Angie Rees - life is a party

His date and place of birth
Born in 1965, painter Angie Rees lives in Calgary, Alberta.

His education, his career
Although she has painted all her life, Angie received an academic education at Grant MacEwan College and the University of Alberta, where she graduated with a Bachelor of Arts in 1990.

Early in her artistic career, Angie painted sets for the Alberta Theater Projects theater company and Theater Calgary. She considers this experience to be incredibly formative on a technical level. Later, she founded a company creating murals. This activity, combined with a teaching position in theater painting at Mount Royal University, kept her busy and fulfilled until 2014. She then channeled her energies towards a new challenge: painting for art galleries. full time art. Today his work is widely collected and exhibited across the country.

His work, his art
Angie Rees' painting style is whimsical, playful and eccentric all at once. From the title to the technique, each creation brings smiles, delights the eye and tickles the imagination:
" [...] I think my greatest source of inspiration is humor and puns. I like to laugh and make others laugh. It's very satisfying to me when people are browsing the gallery looking at my works and laughing their heads off reading the titles. [...] I hope my work will touch and delight viewers by bringing out the child in them. »
The birth of her son, Jack, marked the beginning of Angie's whimsical style and helped her tap into the fertile ground of imagination.
" I feed my imagination by regularly devouring children's stories and drama, and I try to satisfy his every whim. In turn, this doubles my ability to dream. [...] It is so liberating to paint in a world where everything is possible and where the imagination abounds. »

Angie mostly paints animals, but sometimes creates fantastical landscapes. His inventive works are extremely well crafted, featuring rich textures and a vibrant palette. The wit and humor that permeate the titles of his works add an extra dimension to these "winks".
" My creative process is variable: sometimes it starts with a title or a funny pun that I thought of; other times it's an image that comes to mind. Either way, when I'm painting, I'm constantly juggling various title ideas. It's a moment of great joy when the right title and the right image come together. The perfect title says a little more than the brush alone; it's like the icing on the cake. »

Creative work always begins with sketches, and Angie spends a lot of time rendering them to her liking before getting a brush. Having experimented with a wide variety of materials, such as oil paint, watercolor and pastels, Angie now paints exclusively in acrylics and uses impasto to create interesting surfaces on her birch panel supports.
Angie Rees has been represented by the Au P'tit Bonheur Art Gallery since February 2020, exclusively for Eastern Canada.