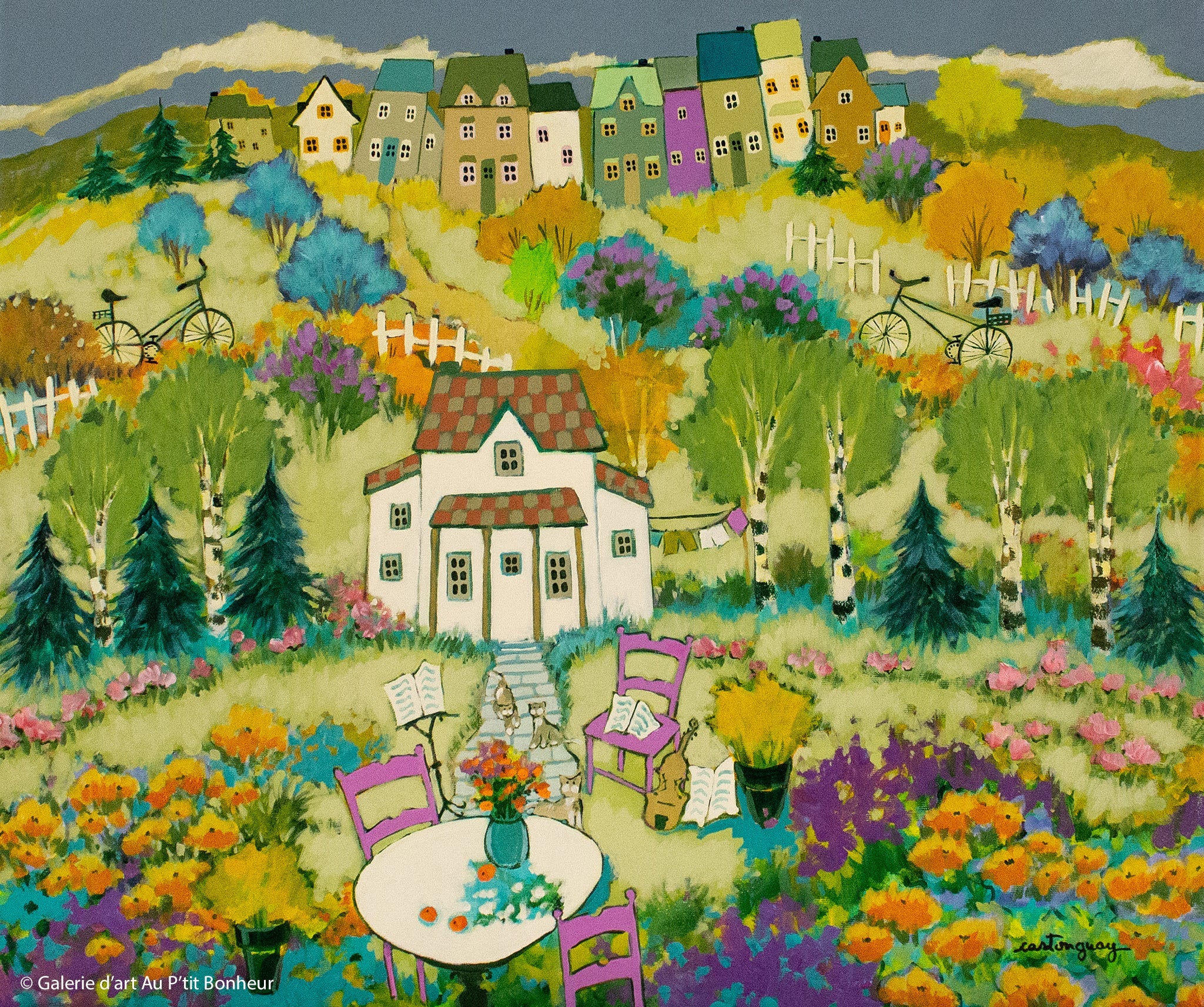 Would you like to receive news from Claudette Castonguay by email?
Claudette Castonguay is a painter from the Quebec region. Self-taught, she represents the individuality of her characters (and her cats!) with spontaneity, sensitivity and humor. His whimsical scenes are a reflection of his joie de vivre.

---
Claudette Castonguay - Life is beautiful!
His date and place of birth
Claudette Castonguay was born in Quebec in 1949.

His education, his career
After completing her studies in special education, she worked for fifteen years with young children. In 1984, she finally gave in to her creative impulses and quit her job to devote herself exclusively to her artistic career. His work receives a lot of interest from gallery owners, especially in the West of the country. Hence the collaborations and the instantaneousness of a success as deserved as it is unexpected. She takes pleasure in abandoning herself to creation, and painting quickly becomes a vocation.

The works of Claudette Castonguay can be found on the picture rails of several galleries across Canada since 1979. Self-taught painter, she pursues her own artistic research with authenticity and enthusiasm.

His work, his art
In her acrylic paintings, Claudette represents the individuality of the characters with spontaneity, sensitivity and humor. Whether it's a cocktail party in the garden, an open-air concert, a flower market or a park crowded with children, his themes reflect his elegance and joy of live.
Before setting off, Claudette decides on her palette and then begins to draw. She begins by randomly applying splashes of color. After that, she turns the painting in all directions to see the image emerge. She then harmonizes the light with the colors and shapes chosen. The subject is shaped. The freshness and lightness of her compositions convey the happiness she feels in composing in this way. His method of creation is based on a great feeling of freedom and his personal vision.

We find in Claudette Castonguay's paintings an amalgam of humor and good-natured freedom, the infinite circle of children's games finding their happy resonances in the harmony of blues, purples and mauves, smiles, red cheeks and these little eyes seeming to discover the wonder of a world like the grandest of playgrounds.

The world of Claudette Castonguay continues to delight collectors. It's a world of brightly colored flowers, sunny skies, social gatherings, and talented children. The kids of Castonguay have fun on the sunny beaches and dance under the dazzling sun. In the cool air of fall and the cold of winter, his characters go on an adventure bundled up in toques and hand-knitted mittens. The artist surrounds his women with a kaleidoscope of multicolored images creating atmospheres that lead the observer to reverie, memory and emotion.

Claudette Castonguay has been represented by the Au P'tit Bonheur Art Gallery since February 2013.