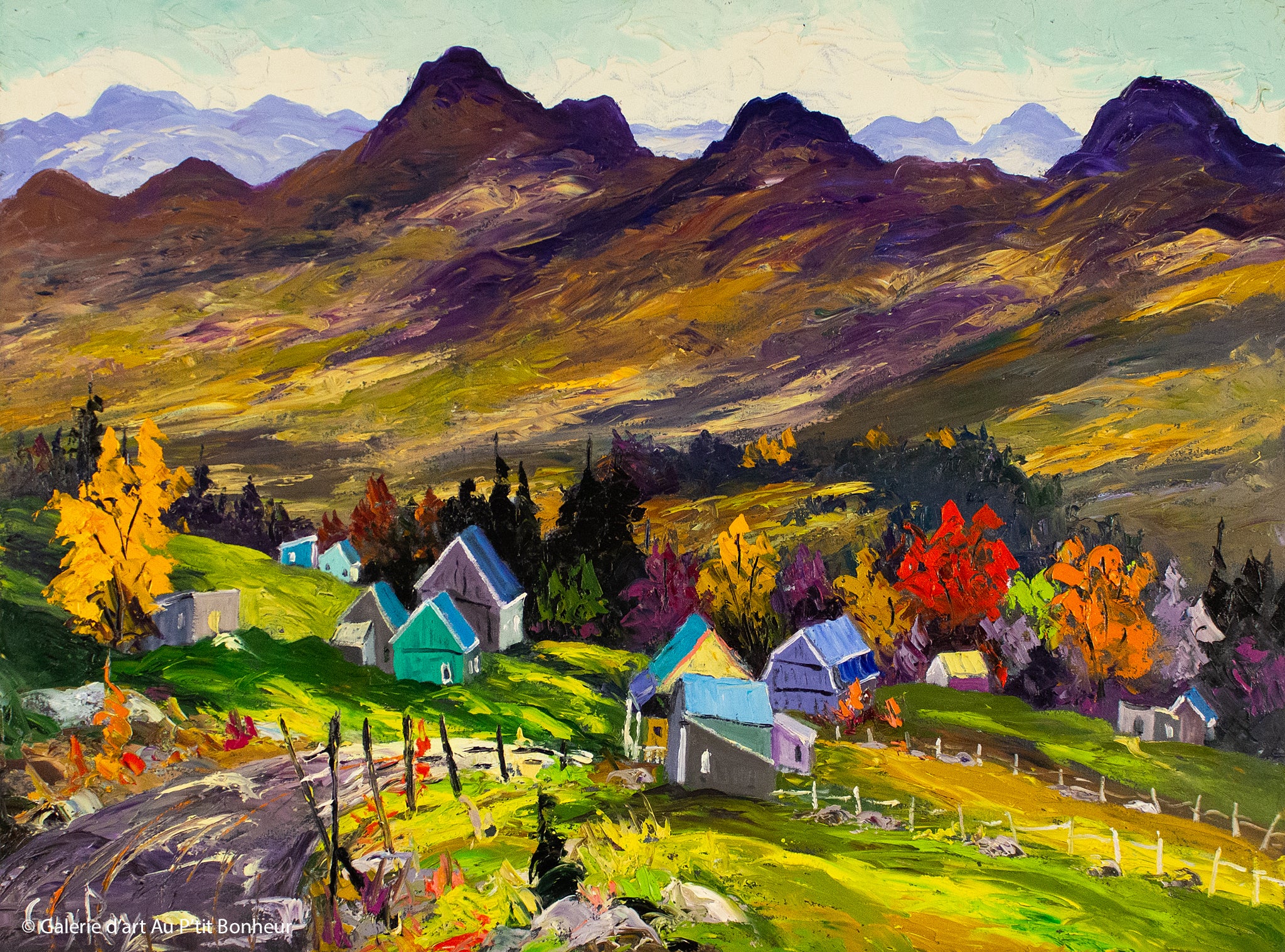 Would you like to receive news from Guy Roy by email?
Guy Roy loves color and it shows! A landscape painter, he is particularly fond of the Charlevoix region, for its nature, its mountains, its light and its immensity. For 40 years now, he has been painting in oil and from nature, most often in large formats, in order to celebrate the greatness of nature.

---
Guy Roy - The immensity of Charlevoix

His date and place of birth
Guy Roy was born in 1948 in East Broughton in the Thetford Mines region.
His education, his career
After high school, he began training in psychology at Laval University, where he obtained a bachelor's degree in 1971. He taught this discipline for two years at the College of the Asbestos region and then directed his career towards a consulting service. , a position he held for 32 years before retiring in April 2003. In 1982, Guy discovered painting quite by chance: it was love at first sight. He regularly attended Raymond Lachance's studio in Thetford Mines for four years and continued his training at the Moulin des Arts, in Saint-Étienne de Lauzon, with Marcel Rousseau. Simultaneously, he follows intensive sessions with other painters, including Jean-Paul Ladouceur, Maurice Lebon and Nicole Foreman. With this base, he continues his journey with enthusiasm, and painting becomes over the years a passion and a profession that he happily pursues, full time. "The more I paint, he says, the more pleasure I have in painting. (…) You have to dare and, above all, paint to have fun. I discovered in painting a mode of expression that sticks to my skin.
His work, his art
For Guy Roy, painting rhymes with nature, so much so that most of his works represent the Quebec landscape;
"When I started painting, I quickly discovered what interested me in painting. I can sum up my approach and my journey as a painter in these few words: immensity of nature, colors, light, contrasts, depth and audacity. I have always loved painting the splendor of landscapes. It is for this reason that I have painted and that I continue to paint large paintings in order to show how big nature is and how small we humans are.

Loving to work on the motif, Guy Roy has always maintained a privileged link with the Charlevoix region;
"I've been going there regularly for over 40 years, especially in the fall when the colors are at their best. The cascading mountains, the sea, its winding roads, its typical houses and the very special light made me discover another facet in my painting, the study of depth and planes."

Guy Roy has been represented by the Au P'tit Bonheur Art Gallery since July 2022 , exclusively for Quebec.