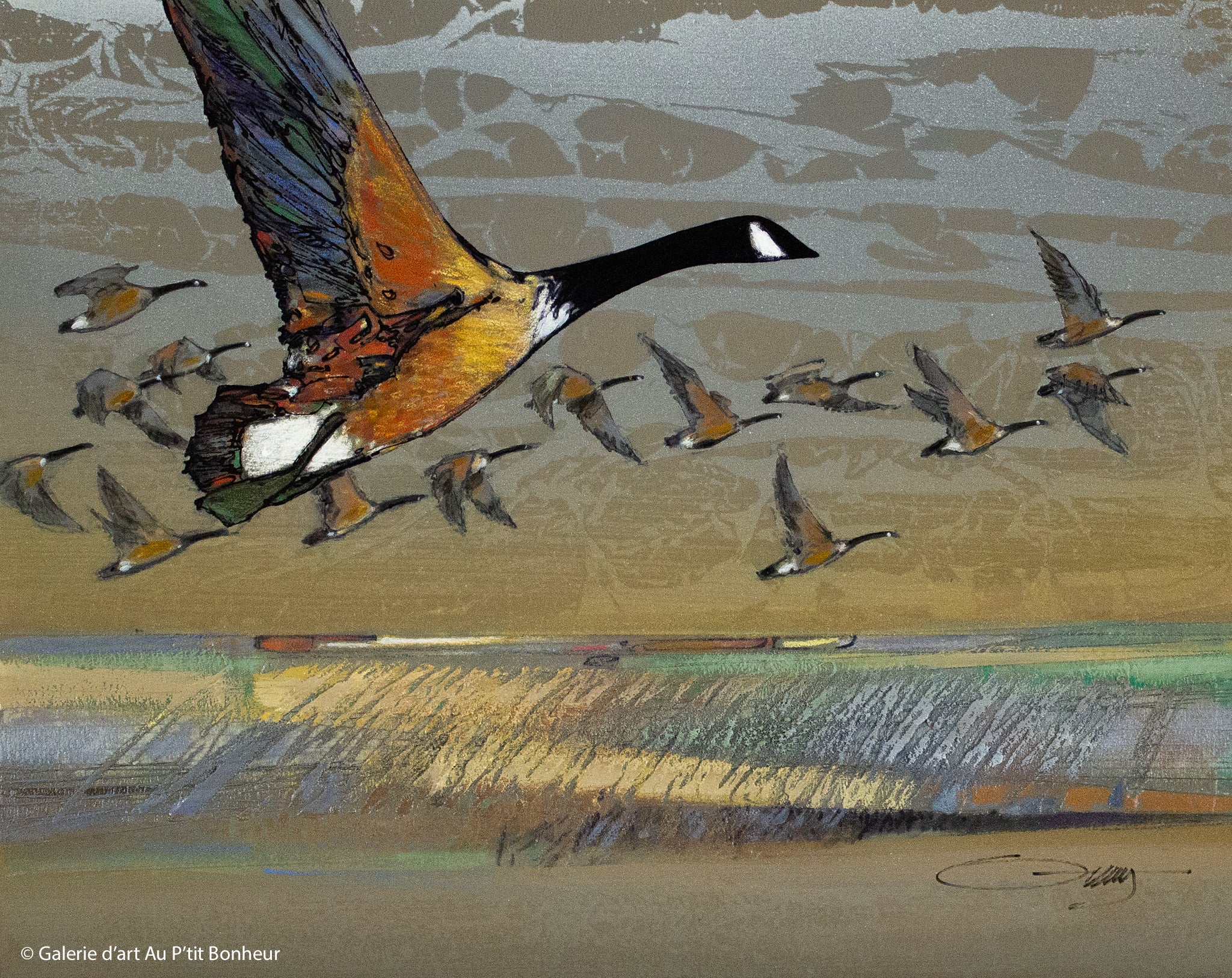 Would you like to receive news from Jean-Pierre Guay by email?
Jean-Pierre Guay, painter, was born in Charny, Quebec, in 1949. Through a pictorial universe combining wild beauty and more abstract elements, he delivers his -renewed- vision of nature. Reliefs and textures give his approach a deeply original character.


---
Jean-Pierre Guay - Wild beauty, matter and energy

His date and place of birth
Jean-Pierre Guay was born in Charny in 1949.

His education, his career
From 1968 to 1971, Jean-Pierre Guay studied at the École des Beaux-Arts in Québec, then obtained a bachelor's degree in art at the École des Arts Visuels at Laval University in Québec.

Jean-Pierre Guay has been painting since his early twenties. Over the years, he has also been an antiques dealer, cabinetmaker, restorer of antique furniture, muralist and sculptor. This unique journey led him to acquire a unique multidisciplinary vision and to live from his art from 1998.

His work, his art
Jean-Pierre Guay enriches his style with his other activities and gives a most original direction to his pictorial creation. With a rich experience acquired in the creation of murals, he uses an unusual technique through his parsimonious use of colors and his search for textures giving spectacular effects. Painted in acrylic, his paintings in bas-reliefs indeed present impressive impastos, collages of gauze, games of ropes, textiles and various materials calling for the inspiration of the painter.

If the work of Jean-Pierre Guay presents two sides, that of animal representations and paintings of less figurative invoice, this one always stands out by its power and its originality. And what about its imaginative formats…

Jean-Pierre Guay's paintings are executed in two parts. He first approaches the atmosphere, or the decor, thanks to its reliefs, abstract elements and large jets of color. Then, the more figurative elements, including his emblematic animals of Quebec fauna, come alive thanks to the quality of his drawing.

A fine observer of nature, Jean-Pierre in no way aims to represent it faithfully, which places him on the fringes of animal art. He claims total creative freedom and makes do with conventions. His moose, bustards, herons, snow geese and, on occasion, his landscapes bear witness to this.

In addition, the painter expresses himself through a multitude of shapes and textures whose strong gestures instil a great visual dynamism in the whole, an impulse that is both modern and wild.

Through a skilful fusion of abstraction and figuration, Jean-Pierre Guay gives us a renewed vision of nature, a powerful tribute to wild beauty.
Jean-Pierre Guay has been represented by the Au P'tit Bonheur Art Gallery since 2003, exclusively since 2005.