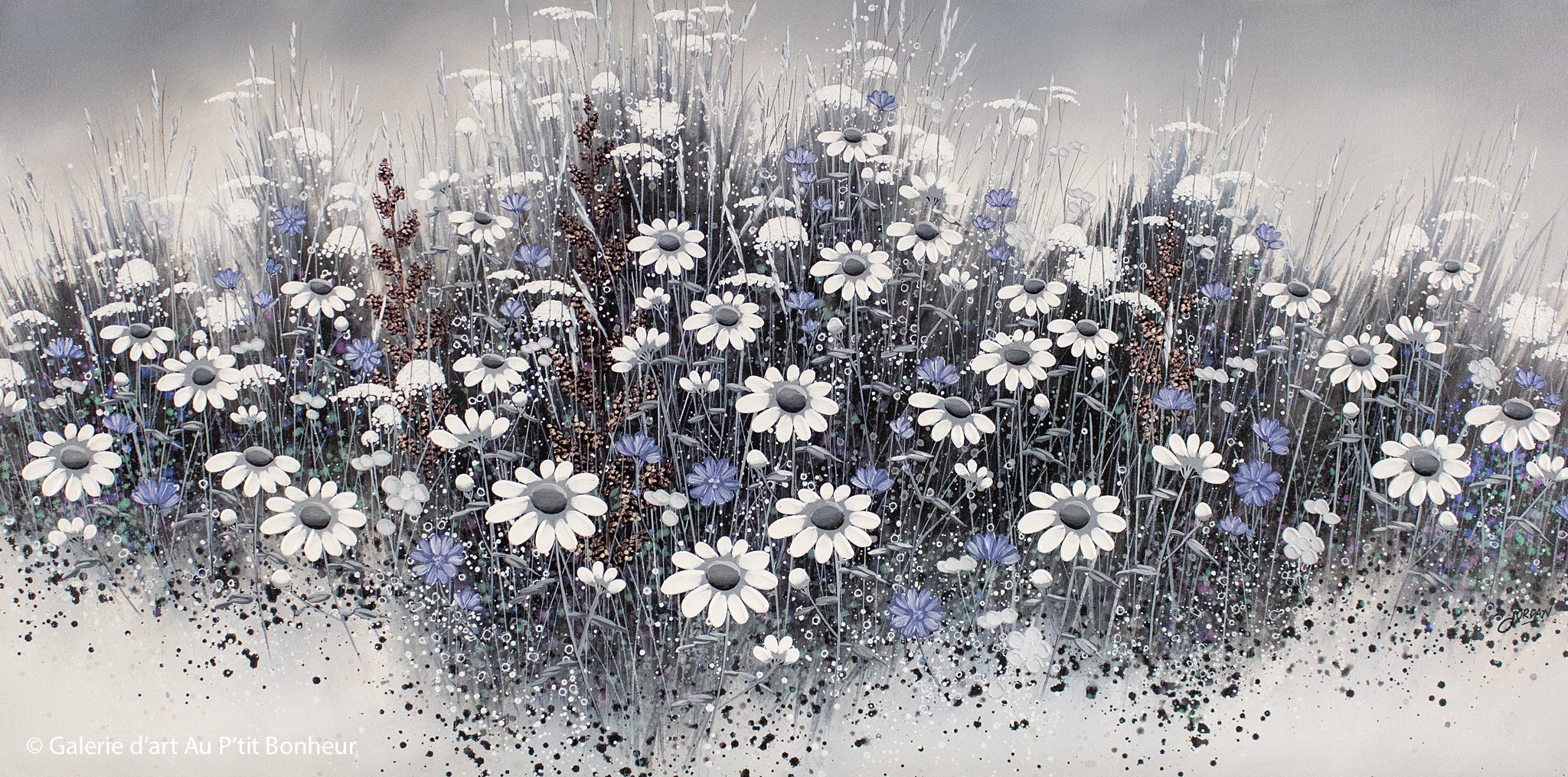 Want to receive updates from Jordan Hicks by email?
Jordan Hicks was born in 1969, in Kingston, Ontario. Each of his compositions are all tributes to nature, most often in the form of joyous explosions of wild flowers. Both delicate and lively, they present unique combinations of colours, details and textures.


---
Jordan Hicks - Among the Wildflowers
His date and place of birth
Jordan Hicks was born in 1969 in Kingston, Ontario, where he lives today with his wife and daughter.
His education, his career
Young Jordan's early sketches and paintings clearly show his deep love of nature. Driven by the desire to pursue a career in art and exploit his creativity, he obtained a degree in graphic design in 1992. Although Jordan sees himself as an autodidact, these years of study provide him with valuable bases in composition, in color theory and art history.
After his studies, Jordan quickly tired of computer design, which he soon abandoned for the easel. He did not take long to develop his pictorial approach and to exhibit, so much so that his ambition to devote himself full-time to his art materialized in 2007. Today, his works are presented in galleries in Ontario, Quebec, as well as in 'in the USA.
His work, his art
Jordan Hicks is a sensitive artist, who draws his inspiration from his frequent outings in the open air and his admiration for the beauty that surrounds him then. It was from 1998, when he moved into an old farmhouse, that he literally fell under the spell of the surrounding fields and that the countryside became his muse.

Amazed by the incredible diversity of life found in a cluster of wildflowers or the simple beauty of a fallow field, Jordan's signature series took root in the year 2000. These compositions are nothing short of joyous explosions of wildflowers, all in color, pattern and depth. The energy that emanates from it as well as the details, imbued with joie de vivre, distinguish the works of Jordan Hicks.

With his know-how in watercolor, oil and acrylic, Jordan has always wanted to take advantage of the qualities specific to each of these mediums. This approach to painting resulted in an acrylic technique that makes her work instantly recognizable. With a combination of washes and impastos, his paintings present singular combinations of shades and textures.

"For me, the main ingredient of a successful painting is honesty. I believe in original art and am dedicated to producing authentic work that has a personality of its own. I choose to avoid trends My goal is to create timeless images that reflect my vision and feelings for our natural world. "
Jordan Hicks has been represented by the Au P'tit Bonheur Art Gallery since March 2017, exclusively for Quebec.