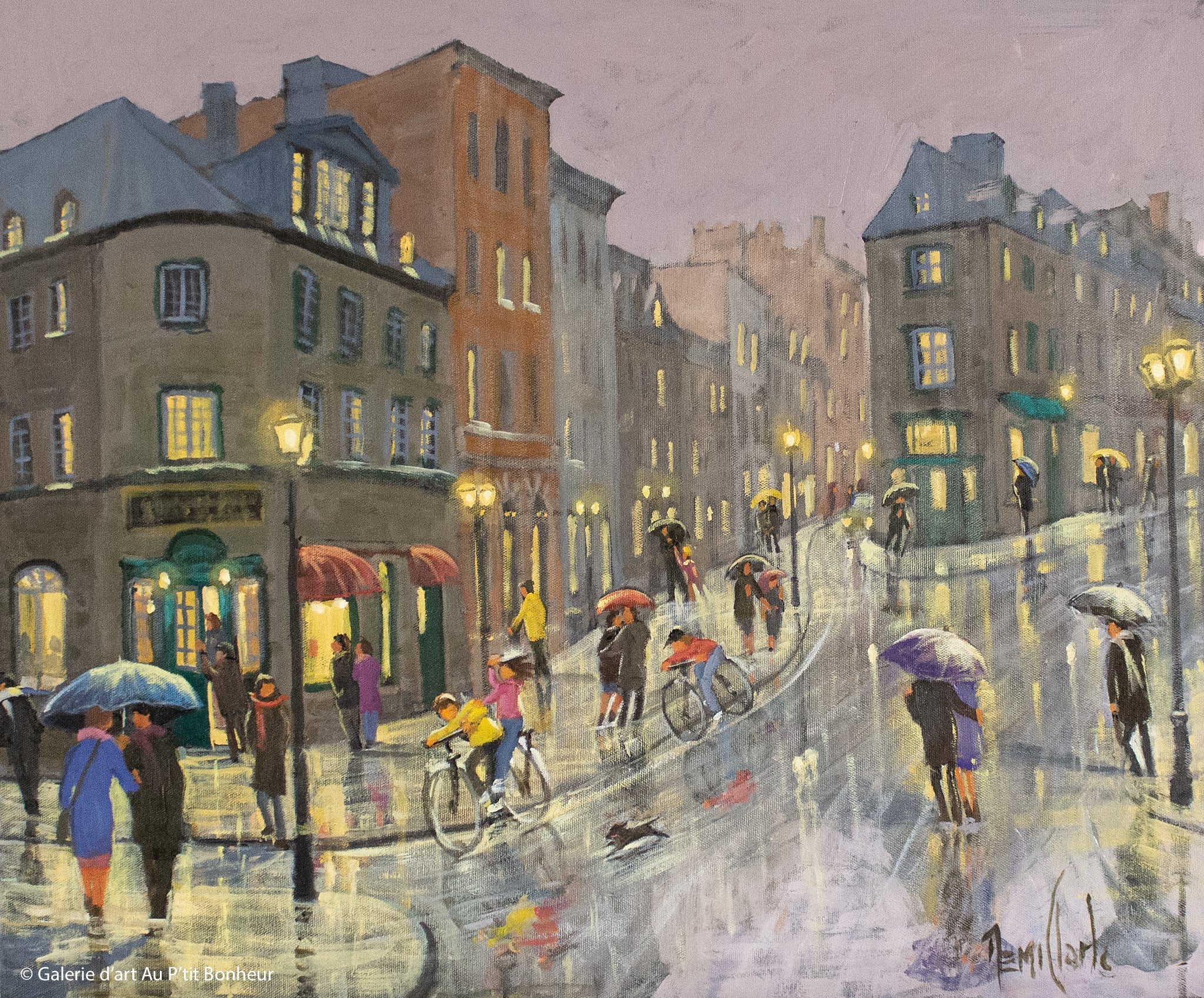 Would you like to receive news from Rémi Clark by email?
Rémi Clark was born in Quebec in 1944. Strongly inspired by Quebec landscapes, especially those of his hometown and the Charlevoix region, he painted subjects dedicated to the happiness of family life, everyday scenes where the balance is the largest of the values. All in simplicity and color, his work celebrates the small and great joys of life.


---
Rémi Clark - Charming sweetness of life

His date and place of birth
Rémi Clark was born in 1944, in Quebec.

His education, his career
Rémi Clark first studied applied sciences at the Institut de technologie. There he learned, among other things, foundry and model making. He then acquired a good knowledge of drawing and geometry, which explains the surprising quality of his line. Subsequently, he studied drawing and painting with renowned painters. He has been painting since 1970.

Once his studies were completed, Rémi Clark embarked on a career in major communication companies. Bell Canada hired him as a technical assistant for network design. The man is a perfectionist: For ten years, he paints and draws without ever exhibiting. It was in 1981 that he opted for full-time painting. His career really took off with his participation in the Baie-Saint-Paul symposium in 1982. Four years later, a scholarship from the Ministry of Cultural Affairs enabled him to undertake a study trip to France. In 1991, he won 1st prize in an international competition in Haute-Savoie, where he represented Canada.
His work, his art
Strongly inspired by Charlevoix, this magnificent county that the artist knows so well for having lived there for more than 20 beautiful years, Rémi Clark paints, through a multitude of subjects dedicated to the happiness of family life, scenes of daily life where equilibrium is the largest of the values. This simplicity, which goes as far as sobriety, shines through even in the light of his paintings. From his paintings emanates an impression of vacation, the time to lie down in the grass, to walk on the edge of the water, the time to do nothing but let yourself be alive. Even the rain which sings and urges the cyclists to return is a pretext for bursts of laughter...

We perceive the works of Rémi Clark, with good reason moreover, as small plays. They are indeed a faithful mirror animated by a beautiful day, inhabited canvases, simple and full at the same time, imprinted with a Charlevoix typicality very specific to the artist. These picnickers, this picker, these lovers, this gardener, this shepherd tell us their story, a story that the painter tells with finesse and sweetness. This incessant search for a story to tell allows Rémi Clark to repeat this approach for each place where the experience of the inhabitants still transpires, whether in Old Quebec, in Charlevoix or, in recent years, in Provence and Italy. . His fertile imagination allows him to continually renew his work.

With Rémi Clark, the naughty side jealously preserved by man has allowed the artist to create a happy marriage between technique and feelings. A painting by Rémi is recognizable by its own personality, by its style that is both lucid and candid.

Rémi Clark has been represented by the Au P'tit Bonheur Art Gallery since 1986, exclusively since 2000.
Two pillars of the Au P'tit Bonheur Art Gallery, the painters
Vladimir Horik
and Rémi Clark.