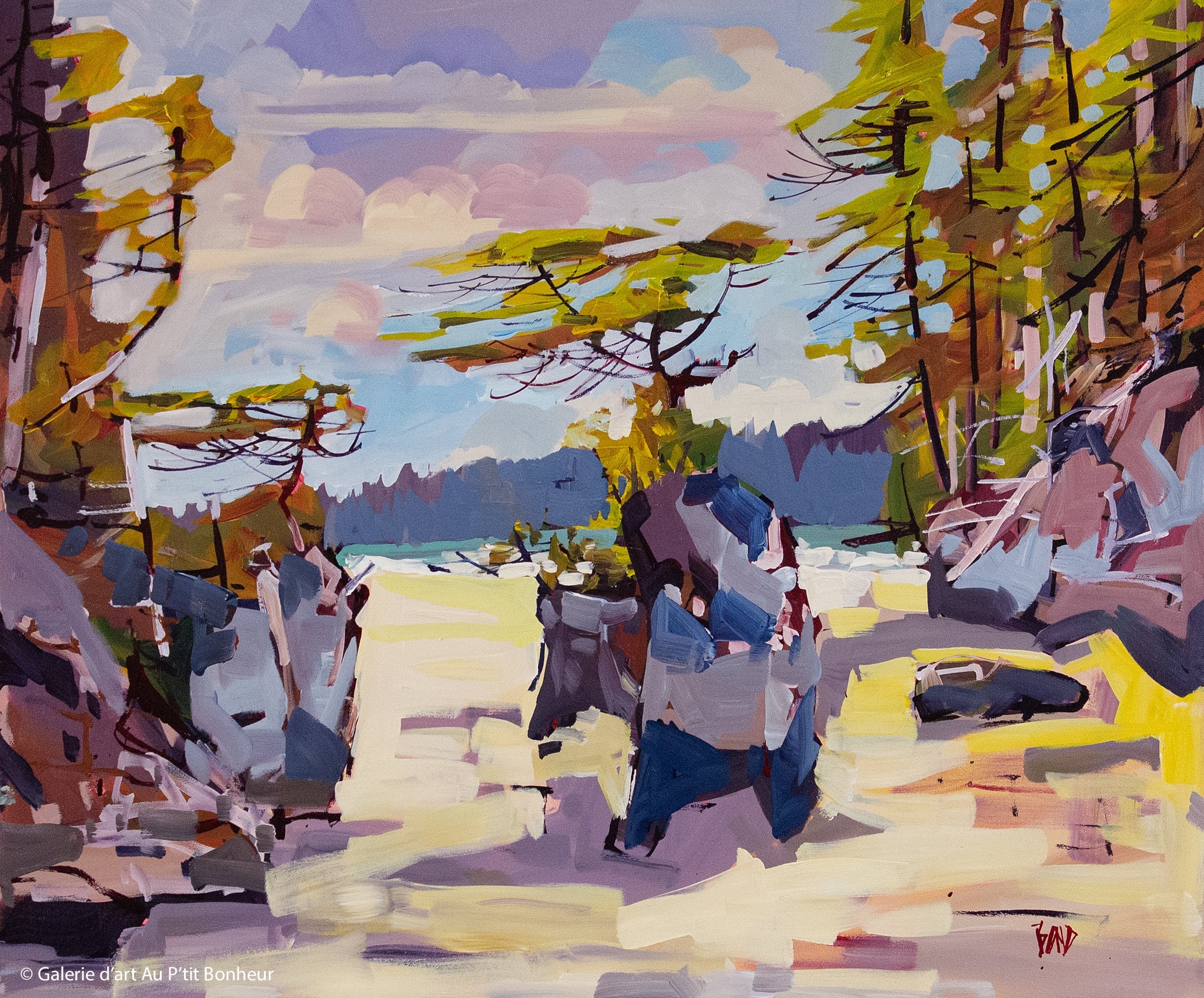 Would you like to receive news from Rick Bond by email?
Rick Bond is considered a contemporary impressionist painter. Based in British Columbia's Okanagan Valley, he creates larger-than-life landscapes and genre scenes in a dynamic style.


---
Rick Bond - The Contemporary Impressionist
His date and place of birth
Rick Bond was born in 1946 on a snowy morning in Victoria, British Columbia. He grew up in the Gulf Islands off the west coast. Today, he lives a stone's throw from Kalamalka Lake in the Okanagan Valley.

His education, his career
A graduate in pharmacy from the University of British Columbia, Rick Bond combines active practice and a busy career when an event will take him away from his path; while visiting a Vancouver art gallery, he is overwhelmed by the need to create. From this call is born his desire to fulfill himself as an artist. This wacky idea catches on, materializes and becomes real.
Although he pursued the careers of painter and pharmacist for some time, he soon put all his energy into forging his artistic identity. His efforts are paying off. Seduced by his works, he was offered a first formal representation in a gallery in 1988. His dream came true then and has not ceased to perfect since.
A well-established Canadian artist, he now lives and paints full time near Vernon, BC. Her artistic training is based on the teachings received at the Emily Carr University of Art and Design and her apprenticeship at Okanagan College, as well as at Pearson College. He also participated in several workshops offered by professional artists, through the Federation of Canadian Artists.
His work, his art
The artist explores different mediums. He experimented with oil, tamed watercolor, but it was ultimately with acrylic on canvas that he chose to paint.
Considered a contemporary impressionist painter, Rick Bond creates larger than life landscapes and genre scenes in a dynamic and relaxed style. A visionary artist, he expresses himself in simple, refined terms. His brush strokes are powerful and his color palette full of audacity.
To feed his imagination, Rick begins each canvas by painting abstract shapes. Once the canvas is dry, he draws the outlines of the foreground. Then, taking into account the overall balance of the painting, he quickly and energetically cuts out negative shapes. Finally, he refines these by playing with the values ​​of the composition to bring out the main center of interest of the subject.

His work is enriched by the experience of his many travels. He is inspired by his expeditions abroad or at home to create urban and rural landscapes. His travels in Italy, Australia, Asia and elsewhere have made him evolve as an artist-painter. Each time he returns home, he is charmed by the beauty of the Canadian landscapes, happy to realize himself and to live his life as an artist in a country like his.

Rick Bond is represented by the Art Gallery Au P'tit Bonheur since March 2014, exclusively for Quebec.