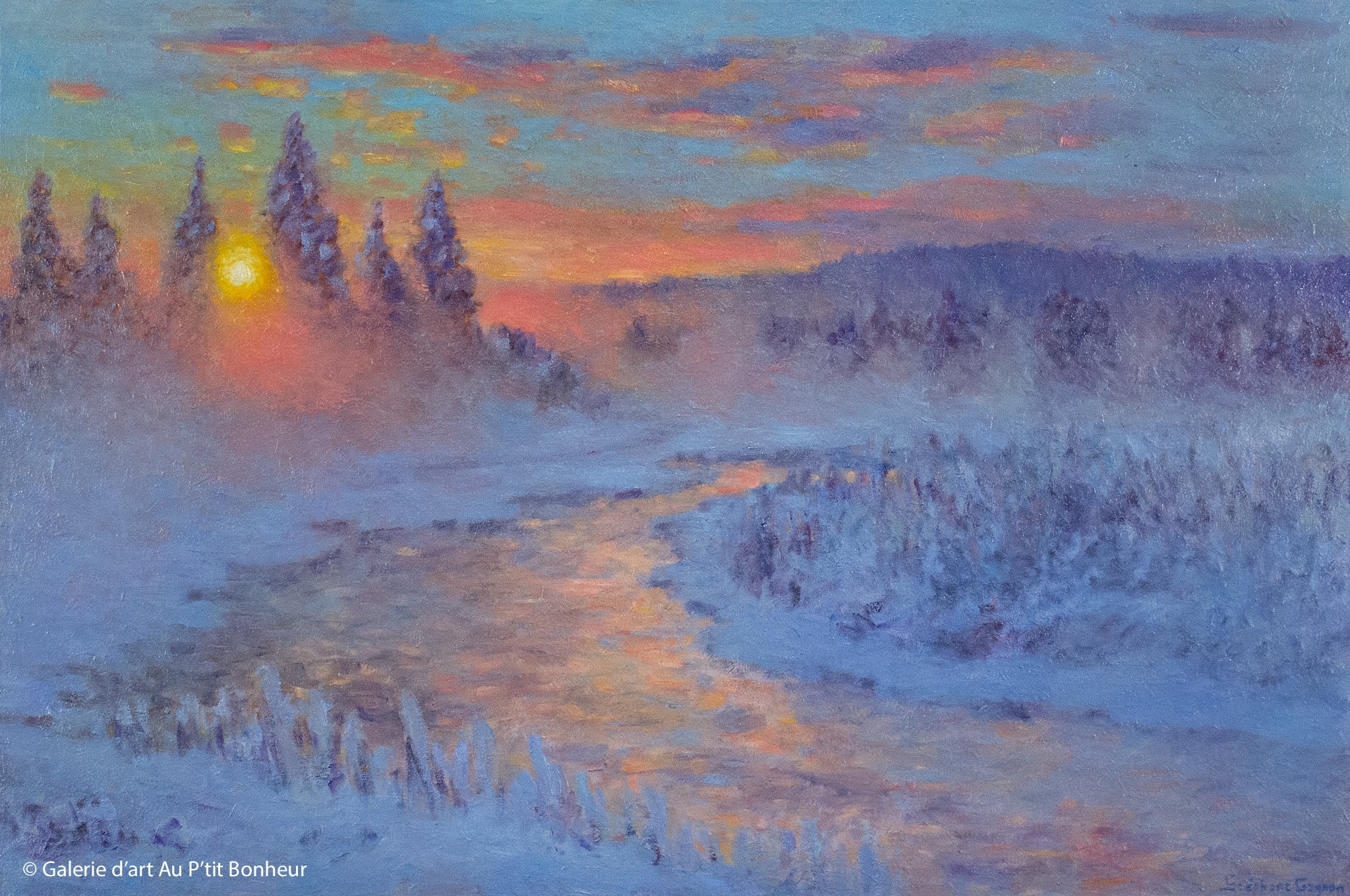 Would you like to receive news from Stéphane Gagnon by email?
Stéphane Gagnon was born in Joliette, Quebec, in 1965. His so-called "traditional" landscapes invite the eye and the imagination to get lost in places where time seems suspended. Inspired by the work of the first impressionist painters, he attaches great importance to atmospheres and seeks to bear witness to the beauty of the nature that surrounds him.


---
Stéphane Gagnon - Nature and movements of the soul

His date and place of birth
Stéphane Gagnon was born in Joliette in 1965.

His education, his career
Born into a most favorable artistic climate, he was encouraged to draw from an early age. Curious, he practices pastel, Indian ink, colored pencil, but it is through the felt pen that he realizes his first exhibitions around the age of 18 years. A bachelor's degree from Laval University in graphic communication will then perfect an already very sensitive pencil stroke.

In 1982, he was introduced to painting by his aunt Yvette Froment, a renowned painter. Until the turn of the 90s, he was first interested in hyperrealism, which allowed him to acquire a good mastery of the technique and a precise sense of detail.

In 2001, after a break of five years, where he took the opportunity to recharge his batteries and find his own way, his approach and the vision of his art were upset by his transition from acrylic to oil. Seduced by impressionist gestures, he developed a more personal style. Since then, its creation has continued to evolve. Today he is considered one of the most talented so-called "traditional" painters in Quebec.

His work, his art
Devoting his rigor and his craft to paying homage to the impressionism of the early twentieth century, Stéphane Gagnon attaches great importance to atmospheres. As a result, his landscapes are often pretexts for light studies. For this great lover of nature, this path imposed itself to bear witness to the beauty of a body of water or a wooded area, his favorite subjects.

In his compositions, he favors balance and simplicity, even a certain stripping, inviting the eye and the imagination to wander in places as if out of time. With his harmonious touch, he simply wants to create a moment of serenity, of tranquility.

"My approach does nothing but do justice to Mother Nature: sometimes calm and peaceful, sometimes hectic, under her great white coat or in the heart of summer, all excuses are good to transpose a particular light to each subject and at the same time to be honest with myself while seeking my own inner enlightenment. "

For Stéphane Gagnon, painting is a sacred gesture that implies a certain contemplation so that the best of the soul of the subjects interpreted emanates.
Stéphane Gagnon has been represented by the Au P'tit Bonheur Art Gallery since 2008.